Computing
The Computing curriculum aims to teach children to code, connect to others, communicate and collect information.
Children develop competency in coding for a variety of practical and inventive purposes, applying their ideas in other subjects.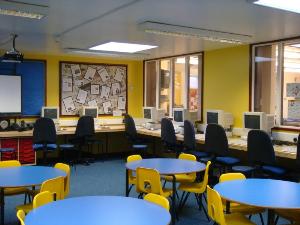 Children are taught to connect with others safely and respectfully through regular teaching of e-safety.
Children are taught to use a variety of programs to communicate their ideas or findings effectively.
In addition they have the opportunity to collect, organise and manipulate data effectively.
We have a well-equipped purpose built computer suite, as well as stand-alone computers and a bank of laptops and ipads that are used in classrooms and that link directly to the school's computer network.
To enhance teaching and learning all of the classrooms have interactive whiteboards which are also directly linked to the network.
Internet access is monitored and filtered by a LA approved provider.